With more than three decades of experience in banking, Michael T. Pugh, President & CEO of Carver Federal Savings Bank, expressed his opinion about what he sees as a discrepancy between talent and opportunity. This, he said, is a contributing factor in the sidelining of minorities in the banking industry.
"When you think about talent, it is something fairly distributed in that we all have some degree of a gift to offer," said the veteran banker. "But not so with opportunity. Hence, the issue is that minorities and women are not given the opportunity for advancement despite having great skills.  My decision to join the Carver family was influenced by a desire to be a part of the solution to that problem,' said Pugh. "At Carver, I not only have the opportunity to mentor but also uplift and promote other minorities and women to senior-level positions."
At present Carver boasts of a Board of Directors composed of 100 percent African and Caribbean Americans, 30 percent of whom are women. According to Pugh, they are all people with skills and talent backed by a commitment to seeing the Carver mission being served every day. "There is no greater place to be than with an organization that stands behind what it believes," he said.
To fully appreciate the Carver mission, it's important to take a peep into the history of the institution that started back in 1948 in a climate where the color of your skin trumped the zeros in your bank statement. As such, big banks weren't lending money to anyone in Harlem, even the middle class. But the need for home and business loans was real. Instead of rolling over to the prevailing culture, some local civic leaders, small business entrepreneurs, and faith leaders came together and started their own bank. Among them was Attorney Hope Stevens who was the first Black president of the Harlem Chamber of Commerce and also a founding member of Carver Bank. After the group's application was denied by New York State, they appealed to Washington D.C and finally gained federal approval. The first branch opened in 1949 and was named after contemporary-era scientist George Washington Carver.
Carver Bank was not only a pioneer in the banking business but its original board included women of color. Now 75 years later, the bank still continues to focus on economic empowerment for communities of color, growth and expansion of small business enterprises, and has the distinction of being the largest African-American-managed bank in the United States. With seven branches located in Harlem, Brooklyn, and Queens, Carver continues to be laser-focused on minority- and women-owned businesses and is a champion for their growth and sustainability.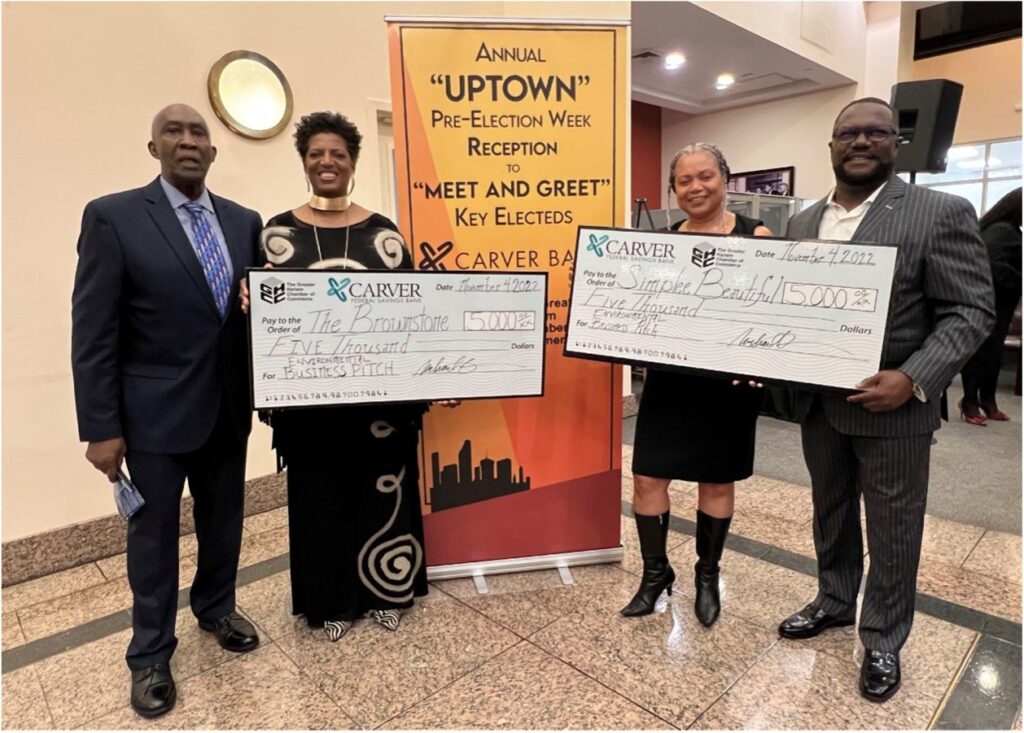 In addition to the brick-and-mortar branches, Carver has account opening capacity in nine states from Massachusetts to Virginia through Carverbank.com. The bank's asset base of $620 million and 135 employees has earned it the label as a community development financial institution (CDFI). CDFI is a designation made by the US Department of Treasury that requires at least 60 percent of every dollar on deposit to be reinvested in the community served. "I am proud that at Carver we have exceeded this minimum requirement and today 80 cents of every dollar we have in deposits is reinvested in the community," Pugh said proudly.
Faith-based institutions have not been excluded from Carver's helpline as the bank has designed programs to help clergy leaders think about operating with and reaching their congregations in this virtual era. In terms of the general community, Carver is working in cooperation with CBOs such as the Madison Square Boys & Girls Club to make sure that youth and families have the support they need.
The two years of a global pandemic created deep fissures in the lives of many people and institutions. But through it all, Carver Bank remained as a beacon of light in the community, illuminating the financial path of its customers. According to Pugh, there are many lessons we have all learned during that time. One of them is that a relationship with your financial institution is much more important than being able to walk into a bank branch on every street corner.  "While that is important,  so too is being able to have a relationship with senior-level people at your bank who are able to respond and make a decision about what you need at that moment," he said.
The named "father" of the bank, George Washington Carver – as though looking through a crystal ball – once decried what he saw as people becoming "money mad." He said: "The method of living at home modestly and within our income, laying a little by systematically  for the proverbial rainy day which is due to come, can almost be listed among the lost arts."  No doubt, with that future view he would have also been proud to see that his namesake, Carver Bank, is doing its part to recover that art for its customer base.  
BY GLENDA CADOGAN
Senior Staff Correspondent