n America, breaking generations-old glass ceilings is always tremendous triumphs that sadly come with consequences – such as societal pushback, criticism, onslaughts from naysayers, and emotional and psychological hurt caused by smashing through the barriers of prejudice.
But increasingly, there are examples of success, such as Fashion Institute of Technology President Dr. Joyce F. Brown and others like Dr. Claudine Gay, incoming president of Harvard University; Dr. Nemat Minouche Shafik, president of Columbia University; the State University of New York Chancellor Dr. John B. King; Dr. Johnathan Holloway, president of Rutgers University; and Rev. Dr. LaKeesha Brown, president of New York Theological Seminary – all qualified individuals who have worked hard to break ceilings.
These education pioneers – who have burst through barriers of race, gender, or both – are contributing to an atmosphere where the possibilities, such as leading an American institution of higher education, are finally becoming commonplace.
Cynics may believe a breakdown in the "system" might be the cause of the historic appointments of Black men and Black women to the presidencies of some of America's most esteemed universities and colleges. But what seems like an unexpected surge to skeptics is the result of decades of hard work and dedication from proven professionals in the field of education.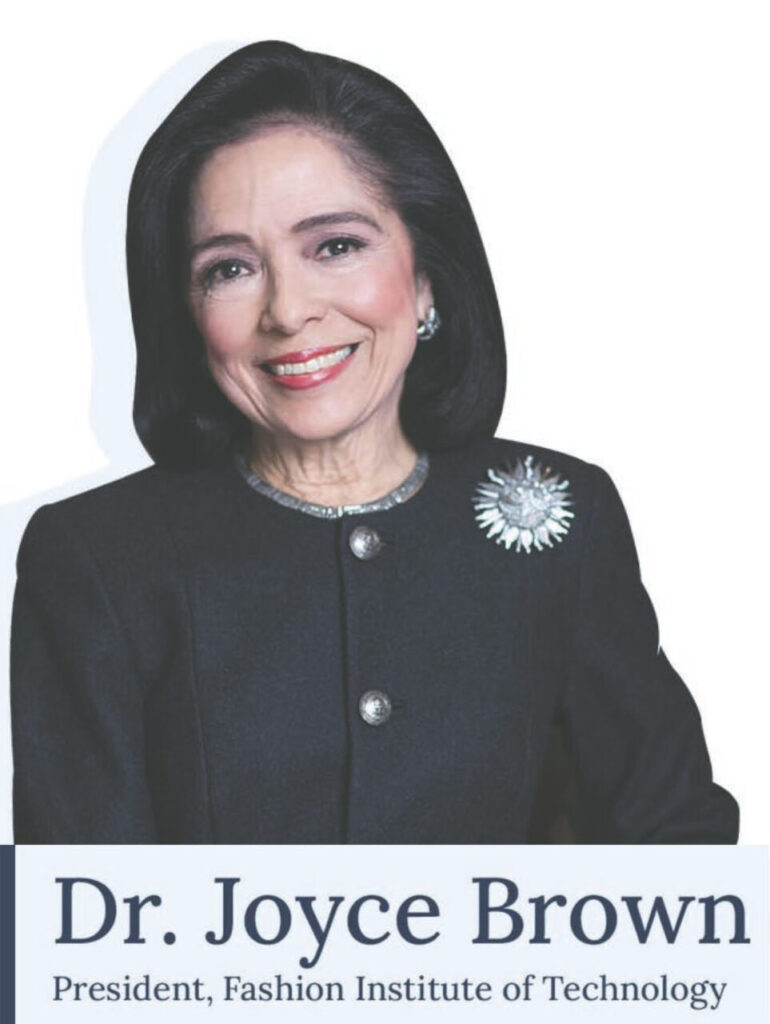 In 1998, New York-born DR. JOYCE F. BROWN became the first Black person and the first woman to hold the post of president at the Fashion Institute of Technology (FIT). And like the fashion industry, Brown – who has been at the helm of the university for a quarter of a century – always keeps up with the times. Brown's achievements during her tenure include "building the faculty," increasing technology for faculty and students, improving facilities, and "invigorating its culture with ground-breaking initiatives in diversity and sustainability."
In "Dr. Joyce F. Brown Used Technology and Intuition to Revolutionize How Students Learn at F.I.T.", a 2018 Time magazine article penned by Brown, she detailed her thoughts on the "opportunity to lead such a creative institution," and the efforts she made to keep students, faculty and staff thinking forward.
Before her presidency at FIT, Brown was a professor teaching counseling psychology in the PhD program at the Graduate Center of City University of New York. But prior to the professorship at the Graduate Center, Brown was aptly handed the sizable responsibilities for the university system – first as CUNY's vice chancellor for Student Affairs, Urban Affairs and Development Programs, and then as the acting president of Bernard Baruch College. In the mid-1990s, on a break from her CUNY duties, she was picked by then-Mayor Dinkins to become deputy mayor for public and community affairs.
Bolstered by these impressive previous positions, Brown utilizes her pioneering and innovative leadership at FIT to improve the environment for the school's more than 8,000 full- and part-time students and its 1,700-plus faculty and staff.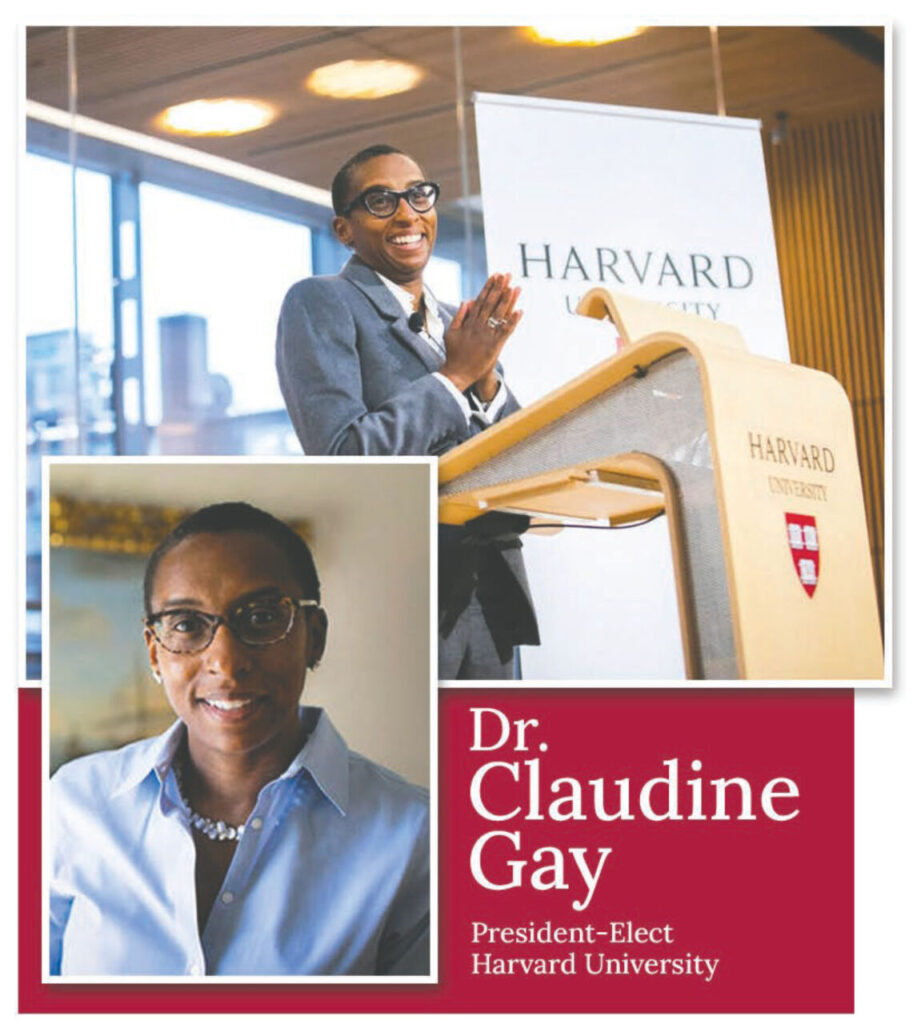 On July 1, when Bronx-born DR. CLAUDINE GAY takes the position of the president of Harvard University, she will be the first Black president in the 386-year history of America's oldest university. Gay is also the university's second woman president, and that's big news for Harvard and the other Ivy League schools: with Gay's appointment, five of the Ivy League's eight institutions are now headed by women. In addition, Gay is the daughter of Haitian immigrants, bringing a new and novel dimension to Harvard's presidency, recognizing the university traditions while navigating the institution through an increasingly diverse world.
Gay had great preparation for her Harvard presidency prior to the post. Starting in 2018, she served as the Edgerley Family Dean of Harvard's Faculty of Arts and Sciences – a wide-ranging university department that encompasses physical and biological sciences to engineering and even in humanities, the arts and social sciences. On a personal note, Gay is a cousin of renowned writer and author Roxane Gay.
Another historic occasion is being marked on July 1 at Columbia University, when Egyptian-born DR. NEMAT MINOUCHE SHAFIK will become the university's first woman and first African-born president. At least for now, academics have won out over economics for Shafik, who is a distinguished veteran international economist.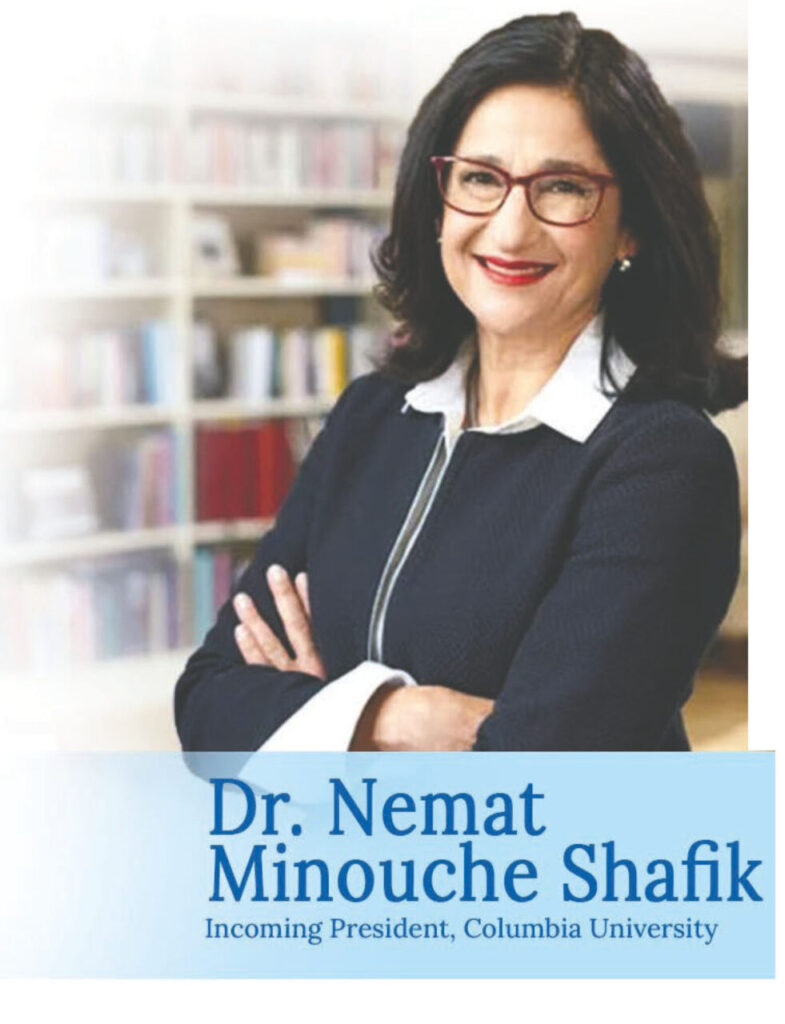 Major media touted Shafik coming as Columbia's first woman president in the school's 268-year history, but she's much more. Jonathan Lavine, chair of the Columbia Board of Trustees, called Shafik "the perfect candidate: a brilliant and able global leader, a community builder, and a preeminent economist who understands the academy and the world beyond it," in a letter to university students, faculty and staff, adding, "What set Minouche apart as a candidate is her unshakable confidence in the vital role institutions of higher education can and must play in solving the world's most complex problems."
Columbia boasts 21 schools, including four undergraduate institutions and 10 graduate schools, with an estimated 33,000-plus students.
Shafik, who's held leadership roles at the World Bank (as the bank's youngest-ever vice president), the Wharton Business School of the University of Pennsylvania, and then served the International Monetary Fund as its deputy managing director. She was educated in the U.S., graduating summa cum laude and Phi Beta Kappa from the University of Massachusetts-Amherst with a Bachelor of Arts in economics and politics in 1983. From there, she went international, attaining a Master of Science in Economics from the London School of Economics in 1986, followed by a Doctor of Philosophy in Economics from St. Antony's College, Oxford University, in 1989.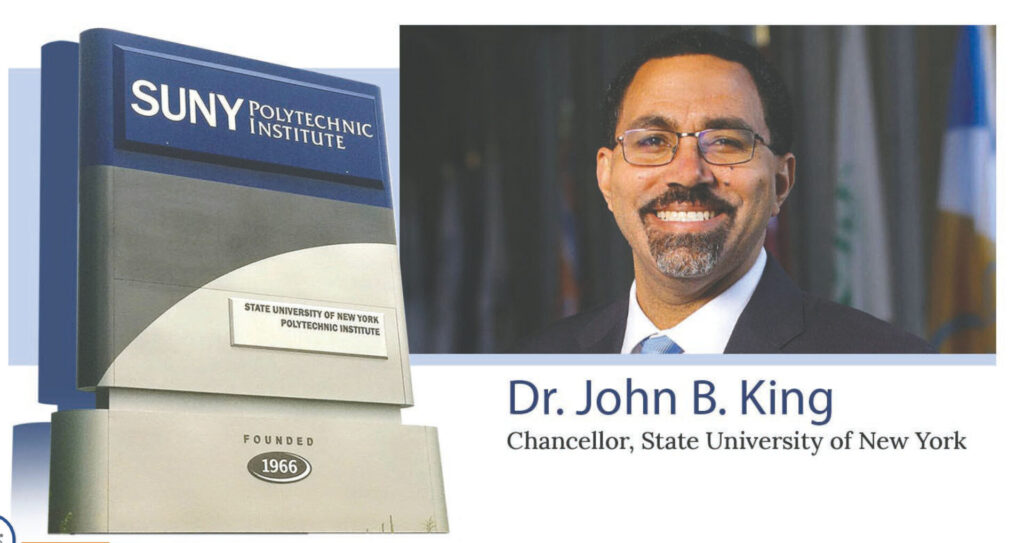 Last month, Brooklyn-born DR. JOHN B. KING became the first Black chancellor of the State University of New York (SUNY), a massive collection of research universities, academic medical centers, liberal arts colleges, community colleges, colleges of technology and an online learning network. That's a total of 64 institutions, currently serving close to 1.3 million students.
Before becoming SUNY chancellor, King was president of The Education Trust, a nonprofit group helping to close educational and opportunity gaps plaguing the preschool, elementary, middle school, high school, and college students.
It could be said that King was born in the education field since his parents were both New York City public school educators. Sadly orphaned by age 12, King said he relied on other public school teachers– highlighting staffers at Brooklyn's PS 267 in Canarsie and Mark Twain Junior High School in Canarsie – to provide the educational and emotional assistance to get through his hard times and move on to a hopeful future.
From the start of his professional life, King went back to public education, which played an important part in his life. He began his career in academics as a high school social studies teacher and took an administrative turn, later becoming a middle school principal.
King earned a Bachelor of Arts in Government from Harvard University, a Juris Doctor from Yale Law School, and with education in mind, he attained a Master of Arts in the Teaching of Social Studies and a Doctorate in Education from Columbia University's Teachers College.
In 2016, President Obama selected King to be Secretary of Education, and head of the U.S. Department of Education.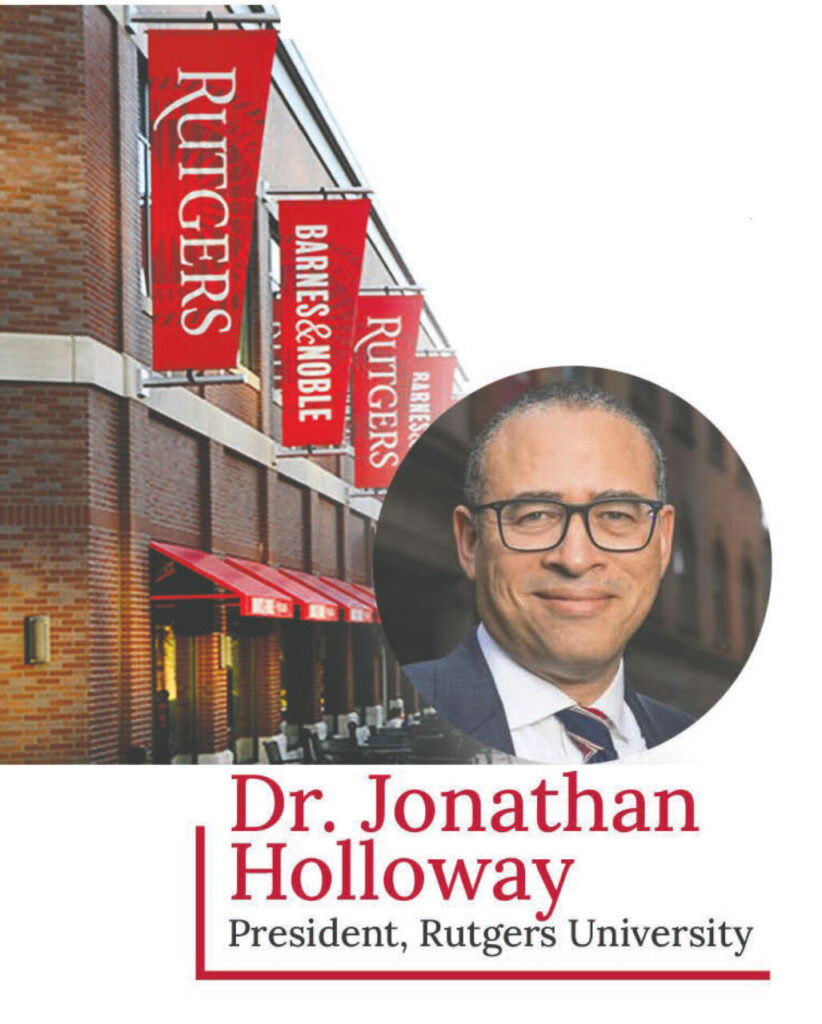 Historian DR. JONATHAN HOLLOWAY made history by being named the first Black president of Rutgers University, the State University of New Jersey, in 2020. Before Rutgers, Holloway was a provost at Northwestern University, and a Yale University faculty member, serving as the dean of Yale College and the Edmund S. Morgan professor of African American Studies, History, and American Studies.
Founded in 1766, Rutgers is the oldest, largest, and top-ranked public university in the New York/New Jersey metropolitan area. As of Fall 2022, there were 67,620 undergraduate and graduate students attending the university from all 50 states and more than 120 countries.
In a "Message to the Rutgers Community" when he assumed the presidency in 2020, Holloway shared his thoughts on the university, which included the repair and rebuilding of the university community in post-COVID times, operating in "a moment of global racial reckoning," and making sure that the Rutgers community knows phrases such as "social justice" and "Black Lives Matter" are not "assaults on the common good, but declarations that we should be a country that lives up to the aspirations in its founding documents."
Today, Holloway, who is also a university professor and Distinguished Professor at Rutgers, is making his presence known in the community, speaking last month at the launch of Equity and Inclusion Week at Wesleyan University in Connecticut, and also at Jersey City Temple Beth-El's 38th annual MLK, JR. tribute. An expert in post-emancipation U.S. history, King has authored a number of books on the era.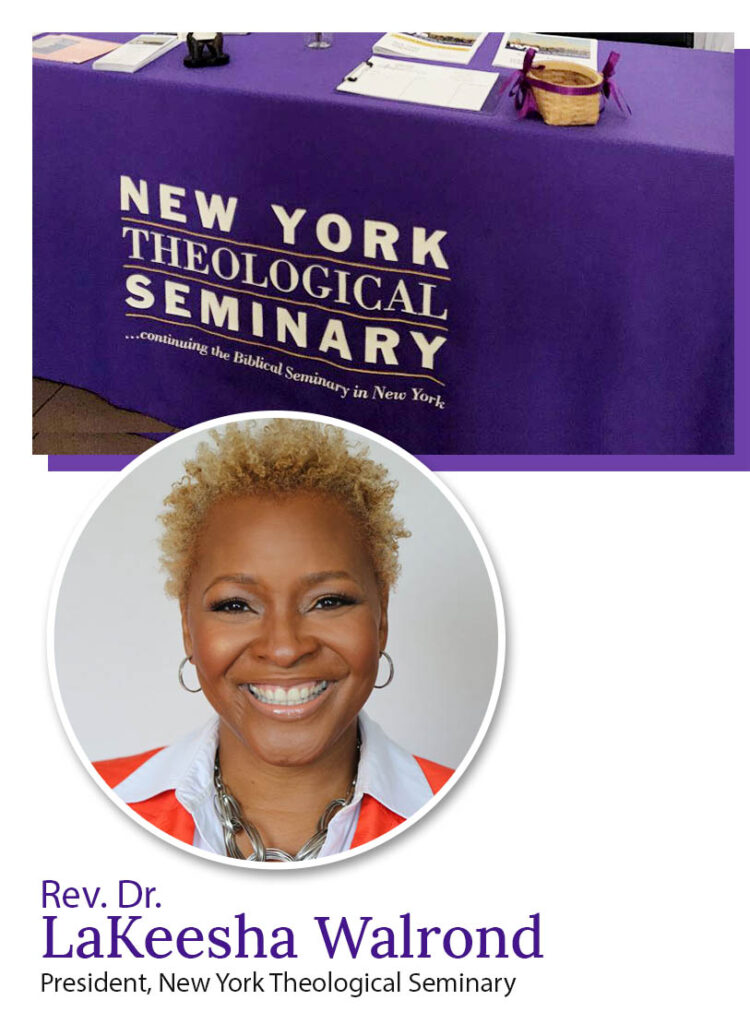 REV. DR. LaKEESHA BROWN WALROND, the first woman and first Black person to become president of New York Theological Seminary (NYTS), made headlines when she took command of the Manhattan institution in 2019.
"A First at a Century-Old Seminary: A Black Woman Takes Charge," read a New York Times headline announcing Walrond's ascendance to the leadership of the institution. She came to NYTS from Central Harlem's 90-year-old First Corinthian Baptist Church, which she successfully ran with her husband, Pastor Michael A. Waldron, Jr. The Times article was one of many media reports heralding the arrival of Walrond.
Once at NYTS, Walrond immediately tackled the seminary-wide trend of declining enrollment and other challenges, and she's been busy with activities on and off campus. For example, she was guest speaker at last month's "Justice and the Church: Women and the Social Gospel" session at Marble Collegiate Church, and last year she kicked off the expansion of NYTS's master's program for prisoners to include incarcerated women in New York State. She's community-minded and quite active outside, but the NYTS institution's workings remain her primary focus.
Founded in New Jersey in 1900 as the Bible Teacher's Training College, the school moved to New York two years later and was renamed first to The Biblical Seminary, and ultimately to New York Theological Seminary. From its New Jersey beginnings to today, the institution maintains "its unique urban focus, its openness to all, and its diversity in denominational and cultural traditions," according to the NYTS website.
Students have the opportunity to achieve doctorate and master programs and certificates. And supporting the students and guiding the institution is Walrond, the "chief advocate" for the Seminary's "mission to prepare faith and thought leaders to engage in relevant, restorative, and revolutionary ministry."
A graduate of Spelman College, Walrond earned a Master of Divinity from Union Theological Seminary, and a Master of Arts in Teaching, Master in School Administration, and Doctor of Philosophy from the University of North Carolina at Chapel Hill.