For the City University of New York, the free Financial Health Conference was an informative family affair — open to all the students, faculty, and staff in the CCNY clan.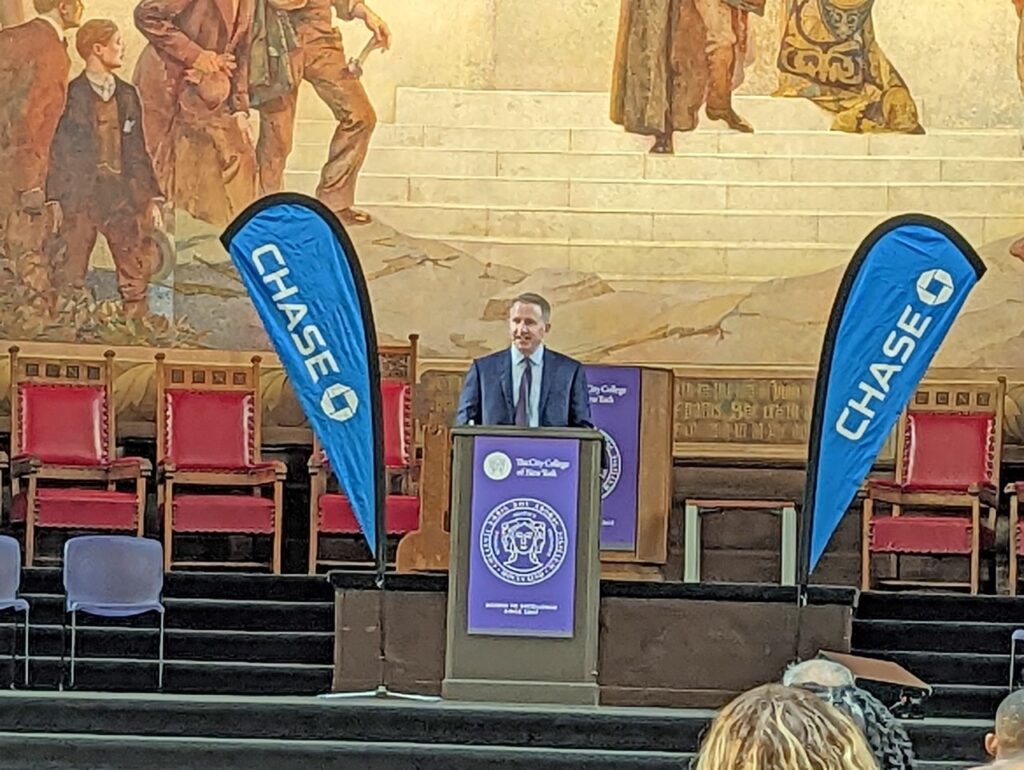 Presented by the college's Colin Powell School for Civic and Global Leadership and JPMorgan Chase, the inaugural conference was a comprehensive introduction to financial planning, saving, investing, and borrowing, with a goal of making "confident decisions to build a strong financial future," according to the organizers.
CCNY President Dr. Vincent Boudreau and Colin Powell School Dean Andrew Rich joined JPMorgan Chase heavyweights Jason Patton, the head of Community and Business Development, Northeast Division, and Nichol King, executive director for Community Banking, in addressing the standing-room-only audience gathered in CCNY's Shepard Hall in Harlem.
In addition to students at the college, the Financial Health Conference organizers opened the event to all CCNY faculty and staff members, giving them access to the workshops on Savings and Budgeting, Credit and Credit Building, Investing, Homebuying, and other activities.
CCNY students Esther Rodriguez and Kiara Valdez volunteered to work the event, but they also planned to be conference participants and gain some needed financial insight.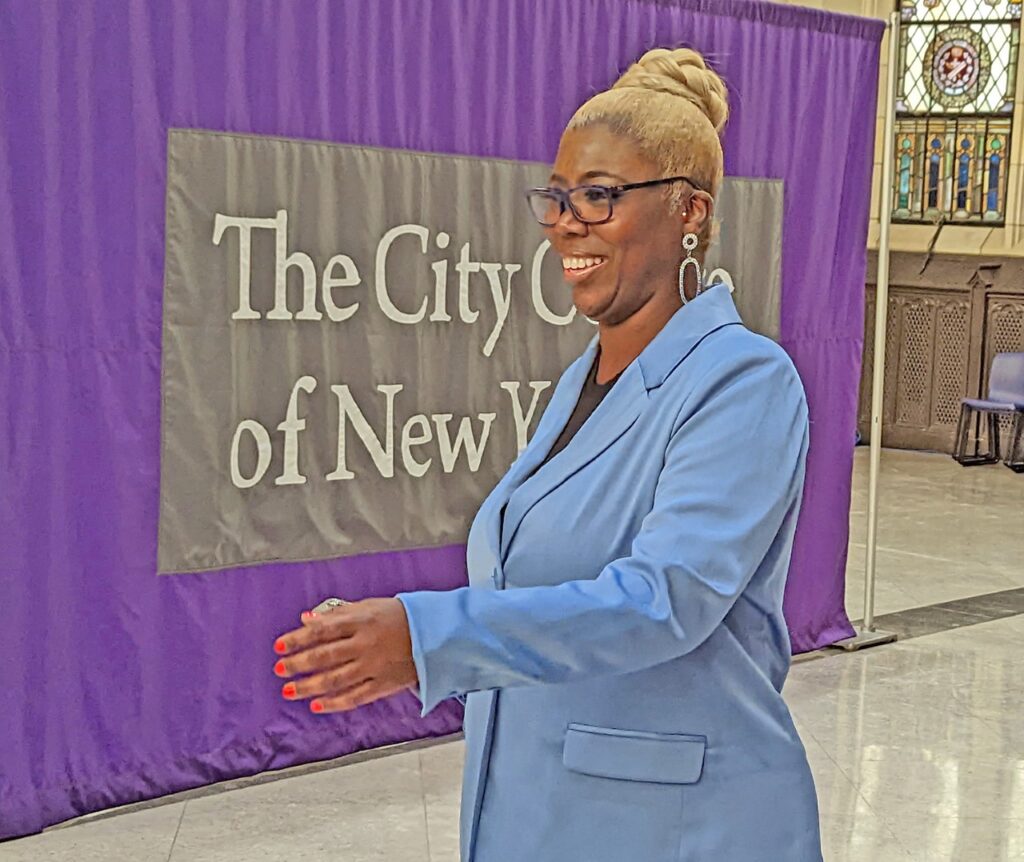 "I'm interested in the Credit Building session, which is definitely something every college student should have in mind, especially when they're an exiting senior or entering into the workplace," said Rodriguez. "It's definitely something that welcomes you into society, having a (good) credit history," she said.
Valdez said she's already improved her credit rating, explaining that "my mom taught me from her mistakes." But the student has plans to become a homeowner in the future and hoped to learn how to purchase her first home at the conference's Homebuying session.
"I know I'm young, but I want that for myself in the future," Valdez said about homeownership. "And I feel that this would be the perfect first step for me, learning the parts that help make this process happen."
Helping to bring the daylong conference to fruition, JPMorgan Chase's Nichol King worked to create a fuller program of financial education for the CCNY campus, after having presented smaller financial help workshops at the college in years past.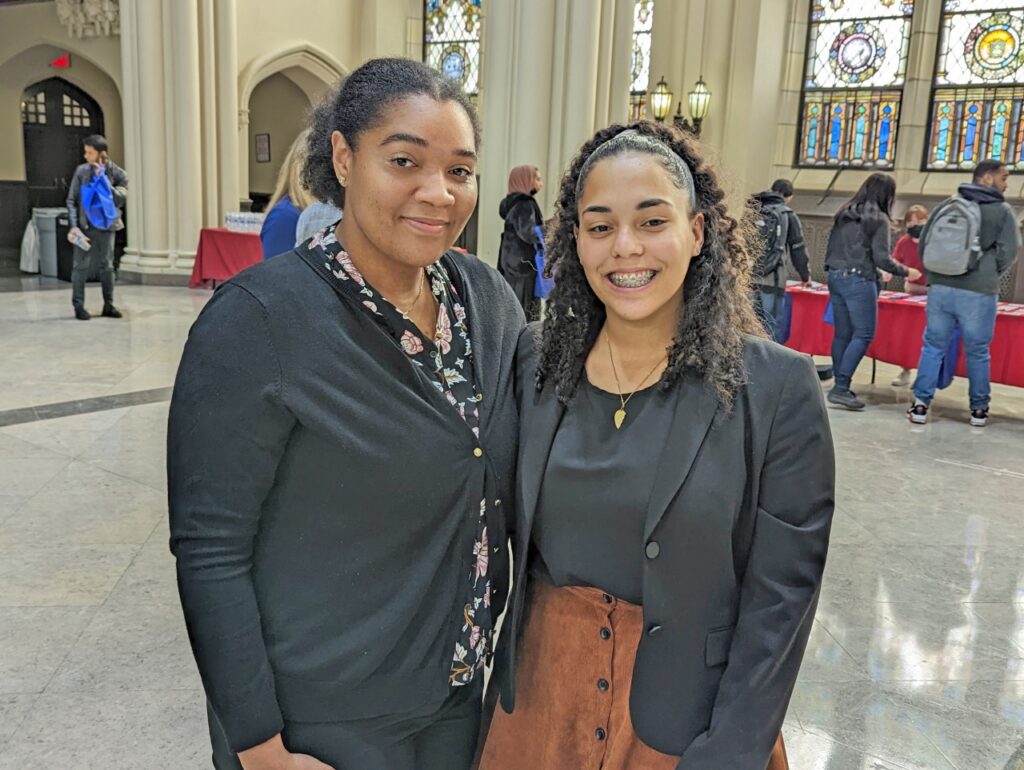 "City College and the Colin Powel School have been great partners of mine," said King, who leads 18 community managers in Manhattan, Brooklyn, Queens, and Long Island. When doing the planning for 2022, the thought "let's think bigger" led JPMorgan Chase and CCNY to develop the conference, recalled King.
"Let's actually think about a financial health conference and have a full day of education for the students, so we can teach them things like how I prepare a budget, how I save for the unexpected, how I manage my credit wisely," said the event's organizers, according to King. "We're really excited today to be on campus to bring these students this very much-needed information about financial health," she said.
"That's why we're here today because JPMorgan Chase is truly committed to helping communities –and these students – understand their financial journey, and to let them know that JPMorgan Chase is truly the bank for all. And it doesn't matter where you fall on the financial spectrum, we can help you," said King.

Representatives from Chase's Harlem branch also attended the event to assist conference participants interested in opening a Chase bank account.

In addition to attending the workshops, CCNY students interested in careers in financial services spoke with JPMC's campus recruiters to discuss opportunities within the company, and the requirements for fellowships with the bank's Advancing Black Pathways and the Advancing Hispanics & Latinos initiatives. JPMC is investing heavily in the two programs which support educational, business and career successes in the respective communities.

According to Dean Rich, the Financial Health Conference also has roots in General Colin Powell's convictions and beliefs in the Advancing Black Pathways program's financial health initiatives. Among his efforts, Powell advocated the need for personal financial competency in Black communities through JPMC's Advancing Black Pathways.

"The genesis of this (the Financial Health Conference) was General Powell himself, who was on the board of Advancing Black Pathways, which is a JPMorgan Chase initiative that strives to reach into the Black community and provide support, financial literacy, and financial planning education, and to do it, in part, on college campuses," said Dean Rich. "So, it's largely at HBCUs (Historically Black Colleges and Universities), but it's here at City College (today). It's pretty neat. It's been special for us." he said.

Powell, who died in 2021, graduated from City College of New York in 1958, and joined the ROTC (Reserve Officers' Training Corps) while attending the school. He later became the first African American chair of the Joint Chiefs of Staff and the first African American U.S. Secretary of State. In 2013, CCNY's Division of Social Science was renamed the Colin Powell School for Civic and Global Leadership in his honor.
BY JARED MCALLISTER